If you are building or renovating, you'll need to start looking at your audio and visual needs and running the cables. We provide a pre-wiring service for all your audio, phone and theatre devices, running all the cables before the walls are finished. After this once your home is ready, we will return to do the final fit off. All your wires and cables will be nicely hidden in the ceiling or walls so you don't have to worry about loose ends.
We ensure not only that your entertainment needs are covered, but we also help you consider your future TV, audio and theatre needs and what may be required. We're big believers in doing it right the first time, which means long-term money savings at your end.
If you require a pre-wire in your building, contact us today for a free quote.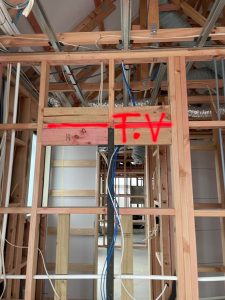 TV Solutions pre-wired all my audio, visual and tech devices before our builders came in, they did a great job and saved us so much hassle.
Rashi and Andrew Frost
November 1, 2022.
very responsive, knowledgeable, and versatile service
John Clarke
October 5, 2022.
This is the 2nd time I have used this company. Very happy with their service, and highly recommend them to others.
Erin Eldridge
September 15, 2022.
TV Solutions helped me with an aerial connection to my TV. Response to my query was prompt. The service person was punctual, friendly, courteous and quickly diagnosed the issue. Great service, very pleased. Thank you.
Max Beech
August 24, 2022.
Jimmy did an excellent job of wall mounting our TV. Unfortunately we were unable to complete the job in the manner we would have liked but Jimmy's experience came up with a plan B which was more than suitable. We would happily use TV Solutions again in future.
Gary Clinton
July 19, 2022.
Needed to have our TV's reconfigured and coordinated, also needed the stereo put through the builtin speakers. At all times Mark and Jimmy were professional, advising us of needed parts arrivals and time and date for installation. Super helpful, great explanations of the new systems and even tidied up after their work. Recommend this company strongly. Excellent work all round.
Sam Mitchell
July 4, 2022.
We use Mark and his team's installation services regularly for our clients. TV Solutions provides us with a consistently great service - installing Starlink satellite dishes, wifi access points and security cameras. We regularly receive positive feedback from our customers expressing their gratitude and satisfaction in regards to their quality of work and professionalism. I wouldn't hesitate to recommend these guys for all of their services. Thanks team! Sam @ LiteUp
NZ "NZWonka" Wonka
March 16, 2022.
Had Mark over to set up our new smart TV on the wall. Looks great, can not fault the workmanship. If you need help call Mark Hubball. He will be there in a flash. Thanks Mark
Tim Stevenson
February 27, 2022.
Excellent knowledge to help with Solutions for TV and Wifi installation . Excellent follow-up to ensure we are happy with the setup . Great rates and pricing of required equipment.
Nick Boote
February 27, 2022.
Great job good price
Peter Cooper
December 4, 2021.
Great service A1 job